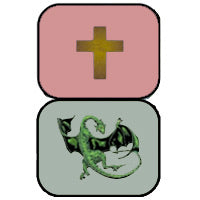 The clay and gray Contender Deck features most of the best N.T. clay Heroes that have powerful band, CBN, protect, and search abilities, all of which are backed up by strong enhancements, making it difficult for your opponent to win the battle!  And speaking of making it difficult for your opponent to win the battle, the gray defense has powerful blockers whose abilities usually win the battle outright, without even having to play an enhancement, have powerful band abilities, and can situationally make your capture abilities CBN! 
See bottom for recommended cards you can purchase separately to help boost this deck's theme, some of which are Classic cards to modify this deck to that format!
Dominants
Son of God (I/J)
New Jerusalem (I/J+)
Angel of the Lord (I/J)
Christian Martyr (I/J)

Lost Souls
O.T. Only (FoM)
Open Hand (CoW)
6/* (FoM)
Destruction (CoW)
Fool (RoA)
Lost Boy (PoC)
Oppressed (LoC)

Artifacts/Covenants/Curses 
Covenant with Abraham (PoC)
Dual-Alignment Cards
Gamaliel's Speech (EC)
Paul's Belt (PC)
Seventh Bowl of Wrath (RoJ)
Heroes
Paul's Nephew (EC)
Parmenas (EC)
The Watchful Leaders (CoW)
Barnabas (EC)
John, the Apocalyptist (RoJ)
Justin Martyr (RoJ)
Cornelius (EC)
Claudia (PC)
Priests of Christ (RoJ)
Polycarp (RoJ)
Captive Priest (FoM)
Angel from the Sun (RoJ)

Good Enhancements 
Elymas Struck Blind (EC)
Preaching in the Synagogue (EC)
Bless the Nations (PoC)
Speak with Power (EC)
Deception Exposed (EC)
Blood of the Lamb (RoJ)
Faith of Samuel (CoW)
Life Through Christ (FoM)
Evil Characters
Orpah (FoM)
False Leaders (PoC)
The Lying Prophet (PoC)
Profane Daughters (PoC)
Aliens (Brown/Gray) (LoC)
Syrian Marauders (LoC)
Captain of the Chariots (LoC)
King Hazael (LoC)
King Rezin (PoC)

Evil Enhancements 
Stricken (PoC)
Destroying Bands (LoC)
Idol Worship (FoM)
Plunder and Pillage (PoC)
Balaam's Teaching (RoJ)
Scattered (RoA)
Reserve 
The Ethiopian Treasurer (EC)
Peter (EC)
Stephen (EC)
Word of their Testimony (CoW)
Gold Shield (LR)
Mercenary Chariots (LoC)
Unsuccessful (PoC)
Hypocrite's Proselyte (J)
Sorrow of Mary (J)
Damascus (EC)
Deck strategy and tips:
This clay offense has many different tactics to choose from to win the battle:  strong protection and band abilities, soul protection, soul gen, powerful rescuers (such as Peter and Stephen, who make your Acts enhancements CBN), and many other options. Conditionally, The Ethiopian Treasurer's ability to negate and underdeck evil cards, Parmesan' ability to bounce an evil card, and Priests of Christ's ability to search for a good dominant are great plays to help you win the game more quickly!

The defense has many powerful characters that, by their own special abilities, will either win the battle straight away, or make your opponent work hard for the soul!  Among these special abilities are strong banding, CBN action, and potentially battle winning abilities.
Your most powerful Heroes are Stephen and Peter, who make Acts enhancements CBN.  Additionally, there are other Heroes that are also powerful when used at the right time, so choose the best Hero for the right situation!
Play Gamaliel's Speech (GS) on Peter to make GS CBN. You can also play it as an evil enhancement to help your defense.

John makes two of your enhancements CBN (Seventh Bowl of Wrath and Blood of the Lamb), so use him at the right time to maximize his CBN ability!  

Use Heroes, such as The Ethiopian Treasurer and Parmenas, to situationally remove evil cards from play.  You can do this by either having them begin a battle, or band them into battle with cards such as Faith of Samuel or Bless the Nations, in order to make them more effective.

Use Captive Priest to create a Lost Soul for you to rescue while also searching for Priests of Christ.  This is best used when you know your opponent has no evil characters in play and must added one to battle from hand, which will then allow you to snag a good Dominant from deck!

A strong play is to use Life Through Christ to play three of your four Heroes from Reserve to protect him from evil cards that turn. This is played perfectly on Peter or Stephen, specifically, as it will be hard to stop them, particularly when they play Acts enhancements that are CBN with them.

A strong defensive combo is to block with King Rezin, play Damascus from Reserve, use Damascus' ability to search for and play Captain of the Chariots, then band to Captain who can then equip Mercenary Chariots or Gold Shield from Reserve to get a draw 2.

False Leaders is a powerful territory-class evil character, who can play an evil territory class enhancement from Reserve (or discard pile situationally).  There are several of these TC enhancements in the deck build, such as Hypocrite's Proselyte and Sorrow of Mary (perfect cards to play during an opponent's rescue attempt to help you win the battle); and Paul's Belt, Plunder and Pillage, Idol Worship, and Gamaliel's Speech in deck.
A strong defensive play is to use Destroying Bands to band in any number of your battle-winning evil characters, such as The Lying Prophet, Orpah, and Moabite Messenger.
Use Profane Daughters to snag the powerful Curse, Unsuccessful, which, when played as an evil enhancement, stalemates the battle!
YTG recommends the below cards as other viable options for this deck's theme, in either the Classic or Rotation format, or both!  You can view and purchase them by clicking on each one, or search for them here!
Classic cards
Rotation cards
Classic and Rotation cards