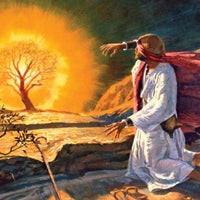 It's MILLer time!  This Contender Deck's main strategy is to mill (or discard) cards from your opponent's deck, which disrupts his strategy and attritions his resources.  In addition to the mill strategy, the offense has strong banding, play abilities, negation, soul protection, drawing, CBN Exodus enhancements (when Moses is in battle), and powerful plague enhancements!  The defense also incorporates the mill strategy, strong banding that acts as a defensive wall against your opponent's attacks, and plenty of interrupts and powerful enhancements to help keep your opponent from rescuing souls!  So, pick up this deck so you can "block like an Egyptian" and have an "exodus" that leads you to victory!
See bottom for recommended cards you can purchase separately to help boost this deck's theme, some of which are Classic cards to modify this deck to that format!
Updated:  02/07/22

Dominants
Son of God (I/J)
New Jerusalem (I/J+)
Angel of the Lord (J)
Christian Martyr (I/J)

Lost Souls
Foreigner (PoC)
Fool (RoA)
Prosperity (FoM)
Deck Discard (LR)
Lost Boy (PoC)
Thorns (LR)
Distressed (PoC)

Artifacts/Covenants/Curses
Manna (PoC)
Moses' Staff (PoC)
Covenant with Moses (PoC)

Fortresses/Sites/Cities
Egypt (PoC)

Dual-Alignment
Pharaoh's Daughter (FoM)
Delivered (PoC)
Heroes
Moses, Friend of God (PoC)
Aaron, God's Mediator (PoC)
Miriam (PoC)
Hur (PoC)
Moses' Parents (CoW)
Indentured Servant (PoC)
Shiphrah (FoM)
The Destroyer (PoC)

Good Enhancements 
"I AM" Has Sent Me (PoC)
Plague of Hail (GoC)
Blood of the Lamb (RoJ)
Plague of Frogs (GoC)
Death of Firstborn (PoC)
Plague of Blood (PoC)
Plague of Boils (LoC)
Plague of Darkness (FoM)
The Exodus (PoC)
Out of Egypt (PoC)
Triumphal Entry (PoC)

Evil Characters
The Hard-Hearted Pharaoh (CoW)
The Murdering Pharaoh (CoW)
Taskmaster (FoM)
Egyptian Army (PoC)
Egyptian Wise Men (FoM)
Jannes (FoM)
Jambres (FoM)
Zerah, the Ethiopian (LoC)

Evil Enhancements
Reclaimed by Egypt (PoC)
Revolt (PC)
Foreign Spears (LoC)
Mercenary Chariots (LoC)
Turn to Egypt (PoC)
Sun Worship (FoM)

Reserve 
Plague of Locusts (FoM)
Plague of Flies (LoC)
Plague of Disease (FoM)
By His Wounds (PoC)
Slaves in Egypt (FoM)
Unknown Nation (PoC)
Evicted (CoW)
No Straw! (CoW)
Moses Kills Egyptian (LR)
Raamses (FoM)
Deck strategy and tips:
OVERVIEW
The deck's main strategy is to mill (or discard) cards from your opponent's deck. This is a unique strategy/ability as it offers so many advantages to the milling player:  it discards your opponent's vital resources and his most powerful cards (i.e., dominants) and also generates lost souls for you to rescue.  The secondary strategy is strong band abilities on the offense and defense.
THE OFFENSE
Moses is the lynchpin to this offense. He makes Exodus enhancements CBN and can band to a human Exodus hero.  Use him when you have your Exodus enhancements ready for battle to maximize their power.  Use cards like Blood of the Lamb and Plague of Disease to give you initiative to play those plagues off of Moses, since he'll be giving up initiative most of the time, due to his large numbers. 
Begin a banding chain with Aaron to Moses to Miriam who can band to an OT female, which there are a few in this deck. She can also exchange a card for a card that involves music in Reserve, which you could snag By His Wounds (a green, teal, and white good enhancement that involves music) and have it ready as a healing enhancement in the event one of the Heroes in battle are discarded, or use it to negate an evil enhancement opponent plays battle.
Moses' Staff is a powerful artifact that can not only be activated on Moses, but it can obtain your plagues from deck or Reserve, and makes your plagues regardless of protection, which will help by-pass deck protection cards, such as Storehouse or protect abilities on your opponent's evil characters!
Moses' Parents is also a great territory-class character, as while they are in territory or battle they will protect all of your other Heroes from the first Evil Enhancement your opponent plays each battle.
Plague of Flies is a powerful card; but be careful when you use it as it'll also hurt your own evil characters in territory.  This enhancement would be best used as an end game tactic as it won't matter at that point if your evil characters are decreased/discarded, since you'll be rescuing your fifth soul to win!
Use Triumphal Entry or Aaron's star ability to top deck one of your good dominants from deck.  Then, use Manna, Covenant with Moses or Plague of Frogs to draw that card.
THE DEFENSE
The best use of your blockers is to band them together. This will make it difficult for your opponent to get through. You have plenty of interrupt abilities too to help keep your opponent from winning battles.
To maximize Egyptian Army's mill ability, have as many of your Egyptian warriors in play before blocking with him. 
In the event your opponent has the powerful fortress, Storehouse, which protects his deck from your mill abilities, you can use Foreign Spears to discard Storehouse.  (As noted below, YTG highly recommends purchasing the dominant, Shipwreck, to add to this deck to help deal with Storehouse.)
Use Unknown Nation as a potential battle-winning enhancement, or the artifact side to search for a blocker if you need one during an opponent's rescue, or an even better use is to extend the battle if your blockers lose by adding another blocker to battle!
Egyptian Wise Men's exchange ability for a gold card from a Reserve can target one of your good or evil gold carcs, since his ability only specifies a "gold card."
Although it's a good card, you can use Covenant with David to search for Egypt, which can tutor a blocker, or use the artifact side to snag one of your two evil pharaohs (which are kings). 
If you happen to draw Prosperity soul and Foreigner soul at the same time, you could discard an Exodus card from hand with Prosperity and get your draw 2, then reveal an Exodus card from hand and topdeck the discarded card and draw it later!
YTG recommends the below cards as other viable options for this deck's theme. You can view and purchase them by clicking on each one, or search for them here!
Classic cards
Rotation cards
Magicians' Staves / Magicians' Snakes
Classic and/or Rotation cards