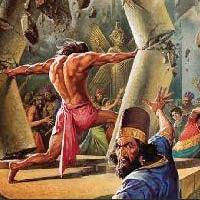 With this Judges / Canaanites & Philistines Contender Deck, you will be in control of powerful, lone rescuing judges, with splashed Postexilic heroes that help support meek-related strategies that synergize well with the judges. The Canaanite and Philistine defense has strong band abilities and big numbered blockers that make it difficult for your opponent to break through. This deck is strong and a lot of fun to play!
See bottom for recommended cards you can purchase separately to help boost this deck's theme, some of which are Classic cards to modify this deck to that format!
Updated:  02/15/22
Dominants
Son of God (I/J)
New Jerusalem (I/J+)
Angel of the Lord (I/J)
Ride on Victoriously / Awesome Things (LoC)
Christian Martyr (I/J)

Lost Souls
Fool (RoA)
Blind (FoM)
Oppressed (LoC)
Remiss (LoC)
Foreigner (PoC)
6/* (FoM)
Prosperity (FoM)

Artifacts/Covenants/Curses
Wool Fleece (CoW)
Gideon's Ephod (FoM)
Oath of Purity (LoC)

Fortresses/Sites/Cities
Judge's Seat (I/J+)
Sodom & Gomorrah (FoM)

Dual-Alignment
Fire Foxes (CoW)
Prisoner at Gaza (FoM)
Heroes
Samson (J)
Shamgar (J)
Gideon (CoW)
Gideon's 300 (P)
Othniel, Son of Kenaz (FoM)
Moses (LR)
Jephthah's Daughter (FoM)
Abihud, the Progeny (LoC)
Matthan, the Defender (LoC)
Eleazar, the Potentate (LoC)
Achim, the Compiler (LoC)

Good Enhancements
By My Spirit (LoC)
Amazing Faith (GoC)
Builder's Sword (LoC)
Plague of Darkness (FoM)
Faith of Samson (CoW)
Faith of Gideon (CoW)
Feast of Booths (LoC)
Evil Characters 
King of Tyrus (PoC)
Og, King of Bashan (FoM)
Sisera's Army (CoW)
Foreign Wives (RoA)
Saph (I)
Philistine Armor Bearer (LoC)
The Herdsmen of Gerar (LoC)
Aliens (Blk/PG) (LoC)

Evil Enhancements
Abraham's Deceit (LoC)
Baal Worship (FoM)
Stricken (PoC)
Idol Worship (FoM)
Go Away! (LoC)
Reserve
Jephthah (J)
Impartial Judgment (LoC)
Trumpets and Torches (J)
Avenged! (FoM)
Daughter's Grief (FoM)
Doomed Canaanites (PoC)
King Achish (CoW)
Besieged (PoC)
Foreign Spears (LoC)
Scattered Sheep (PoC)

Deck strategy and tips:
OVERVIEW
The offense mostly utilizes lone heroes for rescues that utilize powerful enhancements to help them win the battle, but there are a few banding options to incorporate.  There are unique, powerful heroes, such as Moses, that can situationally be used during certain rescues when you have the right enhancements to back him up.  Additionally, your meek heroes are supported by cards, such as Achim, Abihud, and Eleazar, as well as other cards that interact the best with meek heroes.
The defense has powerful, large numbered blockers that tend to band to one another, forming a wall to help stop your opponent's rescues.  They are backed-up by several negate enhancements that help to deflect your opponent's good , battle-winning enhancements, in order to keep your blockers in the battle.
THE OFFENSE
Eleazar is a pretty versatile hero:  his star ability can topdeck Builder's Sword (or Foreign Spears) from Reserve, and he can either band to one of your warrior judges, or to one of your meek heroes.
Play a meek hero and Achim to territory as soon as you can so you can benefit from Achim's ability to negate opponent's neutral cards. 
A good combo is to use a meek hero to rescue. When you have initiative, play Feast of Booths to get a potential draw, and also play an OT good enhancement from Reserve on your meek rescuing hero.  This will allow you to play a potential battle-winning enhancement after getting a draw. 
The Impartial Judgment combo:  Put into play as many of your meek heroes as possible (use Oath of Purity and/or Go Away to help bounce those who have a special ability side so you can play them as meek).  In combination with this, try and bounce as many of your opponent's evil characters to his hand.  Then, rescue with a meek hero.  Before your opponent blocks, play the Awesome Things dominant to then play Feast of Booths on your meek rescuing hero.  Get a draw (if possible), then play Impartial Judgment from your reserve on your meek rescuing hero.  This will cause your opponent to have to discard the same amount of evil cards from his hand as you have meek heroes in play.
Jephthah's territory destruction is powerful. Time it right to take out 2 of your opponent's toughest Evil Characters!
Moses is one of your most powerful rescuers. Although he negates enhancements (including your own enhancements), there are plenty of your good enhancements that will still work through his negate. 
Prisoner at Gaza is great for soul gen, as well as Reserve access and general versatility of being either a Hero or Evil Character - whatever you need.
Sometimes order of operations can be confusing. Jephthah's Daughter's ability is an example of this, so here is how it plays out:  attack with her, then banish her to add Jephthah to battle from Reserve. His ability activates first before her choose the blocker ability does. So once you choose to use or not use his ability, choose the human from opponent's territory to block Jephthah (if there's a valid target).
Activate Wool Fleece on Gideon so you can use your artifact pile to activate a second artifact!  Be careful, as Wool Fleece will affect your own evil banding. 
THE DEFENSE
Use Og to hopefully snag a black OT card from the top of deck (perhaps it's one of your Canaanites), then band to an evil Canaanite warrior, such as King of Tyrus or Sisera's Army to make a strong block against your opponent. 
King of Tyrus is the best blocker in the deck, particularly if your opponent is playing is using OT heroes, so try and use him as often as possible. His take an Canaanite from Reserve is a nice ability too. You gain an additional benefit of a draw 1 by giving it to your opponent's territory.  The best one to give is Doomed Canaanites as it has a negative affect on your opponent's territory. 
A nice combo is to block with KoT and give Doomed Canaanites to opponent's territory to draw 1. Doomed Canaanites' ability will activate and negatively impact your opponent's territory during his next upkeep. Also, if you end up using Jephthah's Daughter's choose the blocker ability, and your opponent is using a black defense, you have a great chance at winning the next battle by choosing Doomed Canaanites to block Jephthah!
Try and play Fire Foxes as an evil character (instead of a good enhancement) as it is much more effective as a blocker. 
Use Philistine Armor Bearer (PAB) to exchange for any of your unique Philistines, and also snag Foreign Spears from your reserve to use as a negate for when you need it for that battle. 
A strong combo is to against banded heroes is to block with Prisoner at Gaza, snag Scattered Sheep from your reserve, then add PAB to battle to exchange for King Achish in reserve. So long as another Philistine is in play (make sure you have one in play, since there are some in this deck), you will be able to immediately play Scattered Sheep to CBN shuffle all of those banded heroes!
YTG recommends the below cards as other viable options for this deck's theme. You can view and purchase them by clicking on each one, or search for them here!
Classic cards
Rotation cards
Classic and Rotation cards