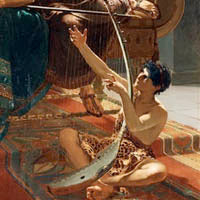 Are you a "praiser" or a "complainer"? This deck features them both, with powerful musicians and splash Kings of Judah rescuing lost souls like bosses, while your rebellious Israelites show your opponent what it means to really block!  This deck is super strong, formidable and oh so fun!
See bottom for recommended cards you can purchase separately to help boost this deck's theme, some of which are Classic cards to modify this deck to that format!

Dominants
Son of God (I/J)
New Jerusalem (I/J+)
Angel of the Lord (I/J)
Christian Martyr  (I/J)
Led Astray (LoC)

Lost Souls
(7) "Meek" Lost Souls (no special ability)

Artifacts/Covenants/Curses
Ark of the Covenant (RoJ)
Covenant with David (PoC)
Oath of Purity (LoC)

Fortresses/Sites/Cities
Solomon's Temple (RoA)
Dual-Alignment Cards
Warning Against Rebellion (CoW)
Acts of Manasseh (LoC)
Solomon, the Wise / the Idolator (LoC)
King Saul (CoW)

Heroes
Miriam (PoC)
Hannah (PoC)
The Twenty-Four Elders (RoJ)
David, the Psalmist (CoW)
Music Leader (PC)
The Woman with Child (RoJ)
Naaman's Servant Girl (FoM)
Jehoshaphat, the Seeker (LoC)

Good Enhancements 
Royal Parade (LoC)
The Coming Prince (PoC)
Shared Meal (LoC)
The Lord Goes Before You (FoM)
Temple Dedication (RoA)
Love Righteousness (CoW)
Virgin Birth (PoC)
Faith (PoC)
Fountain of Living Water (PoC)

Evil Characters
Medium at Endor (CoW)
Doeg (CoW)
Michal (CoW)
Ahaziah, the Wicked (LoC)
Jehoiakim, Puppet King (LoC)
Jehoiachin, the Conquered (LoC)
Athaliah, Usurper Queen (LoC)
Transgressors (PoC)

Evil Enhancements
Achin's Sin (I)
Treason! Treason! (LoC)
Solomon's Oppression (LoC)
Idol Worship (FoM)
Scattered (RoA)
Reserve
Samuel (CoW)
Moses (CoW)
Isaiah (PoC)
Light in the Darkness (PoC)
Out of Bethlehem (PoC)
Gathered Together (PoC)
Brother's Conflict (FoM)
Hired Sword (LoC)
All the Curses (LoC)
Wasting Disease (PoC)

Deck tips and strategies:
OVERVIEW
The offense focuses on powerful heroes that involve music that are hard to stop. Many of these offensive cards can be recurred, negate, and can be easily searched for (which significantly speeds up the deck). There's also a splashed royal hero element that synergizes well with the musician theme. 

The defense has a mix of strategic benefits that tend to revolve around but don't rely solely upon meek Lost Souls being under your control as there are many different tactics to use to help win the battle. There's plenty of banding, soul protection, strong character abilities, and general speed.

THE OFFENSE

The Twenty-Four Elders and Moses are the offense's most powerful heroes as they negate several card types. Use these heroes to rescue at the right time so you can maximize your chances of winning souls!

Music Leader tends to be the lynchpin of the offense by being an engine and tutor for all of your good cards involving music. He can also recur those kinds of cards from your discard pile!  Get him in play as soon as you can so you can benefit the most from his ability. 

Search out your good cards that involve music with Music Leader, such as your heroes and enhancements. The sooner he's in play, the more effective he'll be!

Covenant with David is a great way to tutor many of your cards (such as Solomon's Temple, or any of your good or evil kings). Also, it can be searched for and recurred by Music Leader, since it involves music.  

Use Oath of Purity to bounce any of your humans. The best ones are Moses (so you can play your territory class enhancements or characters), Solomon and King Saul (so you can choose to use them as a hero or evil character). 

Use Isaiah so you can make Star cards CBN. There are a few in the deck/Reserve so use them when the time is right.


Although not a musician, The Woman with Child is an excellent way to search for your good dominants, particularly when the time is right (perhaps end game to obtain SoG / NJ to win the fifth lost soul!)

Use The Lord Goes Before You or Brother's Conflict to side battle two evil characters. Then, in that side battle use cards like Idol Worship capture an opposing human evil character, or Achin's Sin to discard all cards in battle!

THE DEFENSE

A strong defensive option is to use the following band chain:  Jehoiakim to King Ahaziah to King Saul. Saul can then band to any of your I Samuel blockers, such as Medium at Endor, Doeg, or Michal. 

If you don't want or need to block, switch tactics by using your soul protecting evil cards to win the battle!

Want to make your evil OT enhancements CBN? Use Solomon as a blocker to make it hard for your opponent to win the battle. 

Maximize Medium's and Doeg's abilities by having King Saul in play.
Play Acts of Manasseh on either good or evil King Saul or Solomon to make it CBN. 
Transgressors is a great way to activate a second artifact (as a curse), and the two in this deck are two of the most powerful curses in the game!  You can also use the curse that's active on Transgressors as fodder for 24 Elders. Additionally, if you want a different curse on him, bounce him with one of your bounce abilities, then play him and do the exchange for the other curse in the Reserve and activate that new curse on him. Now you have a curse in hand you can activate on your artifact pile, or play it as an evil Enhancement in battle!
Got one of your meek lost souls in play?  Opponent rescuing with non-meek heroes?  Keep it simple and use Led Astray to win the battle!
YTG recommends the below cards as other viable options for this deck's theme. You can view and purchase them by clicking on each one, or search for them here!
Classic cards
Rotation cards
Classic and/or Rotation cards