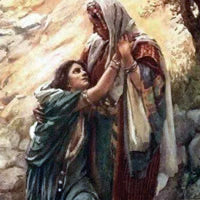 Powerful Ruth heroes, plenty of banding and CBN action, and meek strategies make this offense a beast!  Strong, soul-protecting, and tricky Moabites backed up by powerful enhancements are sure to get you some great blocks and help hold off your opponent long enough for your offense to win the game! 
See bottom for recommended cards you can purchase separately to help boost this deck's theme, some of which are Classic cards to modify this deck to that format!
Dominants
Son of God (I/J)
New Jerusalem (I/J+)
Angel of the Lord (I/J)
Christian Martyr (I/J)
Lost Souls
6/* (FoM)
Prosperity (FoM) 
Foreigner (PoC)
Unfaithful (LoC)
Lost Boy (PoC)
Blind (FoM)
Fool (RoA)

Artifacts/Covevants/Curses
Book of the Law (LoC)
Covenant with David (PoC)
Marriage Covenant (LoC)
Unsuccessful (PoC)
Fortresses/Sites/Cities
Threshing Floor (LoC)
Moabite Camp (LoC)
Land of Moab (LoC)
Dual-Alignment Cards
Death of Family (FoM) 
Heroes 
Boaz, the Redeemer (LoC) 
Ruth, the Redeemed (LoC)
Boaz' Foreman (LoC)
Elimelech (LoC)
Amminadab, the Generous (LoC)
Nahshon, the Blacksmith (LoC)
Ram, the Exalter (LoC)
Obed, the Servant (LoC)
Salmon, the Cloaked (LoC)

Good Enhancements
Your God Will Be My God (LoC)
Ruth's Vow (LoC)
Shared Meal (LoC)
Boaz' Resolve (LoC)
Devotion of Ruth (J)
Root of Jesse (LoC)
Preparing to Return (LoC)
Harvest Season (LoC)

Evil Characters
Moab (FoM) 
King Balak (FoM)
King Eglon (FoM)
Orpah (FoM)
Moabite Army (FoM)
Unrepentant Moabites (LoC)
David's Servants (FoM)
Foreign Wives (RoA)

Evil Enhancements
Stricken (PoC)
Destroying Bands (LoC)
Chemosh Worship (FoM)
Call Me "Mara" (LoC)
Famine in the Land (LoC)
Balaam's Teaching (RoJ)
Reserve 
Jesse, the Ephrathite (LoC) 
Rahab, the Defender (LoC)
Elders of the City (J)
Boaz' Offspring (LoC)
Loyalty of Ruth (J)
Naomi's Blessing / Heartbroken (LoC)
Orpah Departs (FoM)
Men of Moab (PoC)
Balaam (LR)
Scattered (RoA)
Deck strategy and tips:
OVERVIEW

The Ruth offense has been significantly boosted with many Ruth-related cards being released in LoC.  Whether it's banding, CBN battle-winning Enhancements, protections, Reserve access, this offense does it all!

The defense works to protect your lost souls from being rescued, such as the powerful King Balak/Balaam combo, and others, coupled with powerful battle-winning enhancements, such as Scattered and Balaam's Teaching, as well as several search and draw abilities, all of which are sure to frustrate your opponent!  Additionally, in conjunction with the defense, a few of the lost souls tend to help protect themselves from rescue, or punish your opponent's heroes when rescued. 

THE OFFENSE

Almost all of your heroes have a meek side to them, which functions well with certain abilities that pair well with meek heroes. So be sure to use this side to maximize your offense. You can also reset your heroes from the special ability and/or meek side with cards like Book of the Law and Rahab. 

Ruth is one of your best heroes as Ruth enhancements played on her are CBN. 

Threshing Floor is a great way to add speed to your deck and to get a certain card you need. Just make sure you have several Ruth heroes in territory in order to maximize its effectiveness. 

THE DEFENSE

Balaam is a powerful blocker as he can take an O.T. gray curse from discard pile (in this deck that curse is Unsuccessful, one of the most powerful curses in the game), he can play gray enhancements and prevents enhancements.  Since many of your evil enhancements are CBP or CBN, they can still be active when played on him. 

Orpah is a strong chump-block with her conditional CBP withdrawal ability. 

Unsuccessful is a powerful battle-winner when played as an enhancement as it can stalemate the battle, regardless if you're losing by the numbers or not. Also, Balaam can recur it, since it's an O.T. gray curse. 

YTG recommends the below cards as other viable options for this deck's theme. You can view and purchase them by clicking on each one, or search for them here!
Classic cards
Rotation cards
Ride Victoriously / Awesome Things
Rotation and/or Classic cards