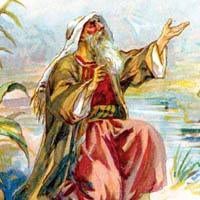 This Contender Deck utilizes mainly major and minor prophets and Postexilic Heroes that synergize into a powerful offense that is hard to stop!  The defense is comprised of powerful Persians that form a defensive wall of strong banding Persian warriors, while being supplemented by tricky female blockers.  Don't miss out on this formidable deck!  

See bottom for recommended cards you can purchase separately to help boost this deck's theme, some of which are Classic cards to modify this deck to that format!
 
Dominants
Son of God (I/J)
New Jerusalem (I/J+)
Angel of the Lord (I/J)
Christian Martyr (I/J)
 
Lost Souls
Blind (FoM)
Covenant Breakers (PoC)
Fool (RoA)
Lost Boy (PoC)
Shame (LR)
Darkness (RoJ)
Foreigner (PoC)
 
Artifacts/Covenants/Curses
Golden Cherubim (RoA)
Covenant with David (PoC)
All the Curses (LoC)
 
Fortresses/Sites/Cities
Lion's Den (PoC)
 
Dual-Alignment Cards
Torn Kingdom (LoC)

Heroes
Jeshua, the Restorer (LoC)
Ezra, Favored by God (LoC)
Haggai (PoC)
Malachi (PoC)
Jonah (PoC)
Isaiah (PoC)
Captive Priest (FoM)
Imprisoned Prophet (FoM)
The Watchman (P)
The Defender of the Saints (PoC)
 
Good Enhancements
The Coming Prince (PoC)
Sign of Jonah (PoC)
Gathered Together (PoC)
Outpouring (PoC)
Righteous Judge (PoC)
Numerous as the Stars (PoC)
The Coming Prophet (PoC)
Offering Your Son (PoC)
Fountain of Living Water (PoC)
Feast of Booths (LoC)
 
Evil Characters
King Darius, the Mede (PoC)
King Xerxes (PoC)
Persian Horsemen / Persian Horses (PoC)
Persian Conquerors (PoC)
Persian Archers (PoC)
The Bear (PoC)
Queen Vashti (PoC)
Gomer (LR)
Foreign Wives (RoA)
Aliens (Brown/Gray) (LoC)

Evil Enhancements
Hired Sword (LoC)
Bad Dealings (I)
Irrational Rage (PoC)
Scattered (RoA)
Reserve
Zechariah, the Renewer (PoC)
Jeremiah, Hope Bringer (PoC)
His Name (PoC)
Out of Bethlehem (PoC)
Trumpet in Zion (PoC)
Zerubabbel's Temple (LoC)
Speak Favorably (LoC)
Honor Thy Enemy (PoC)
Cast into Lion's Den (PC)
Lions (CoW)
 
Deck strategy and tips:
OVERVIEW:
The offense uses powerful green prophets that are best used situationally, such as star-based cards (Isaiah, Malachi, and Zechariah), those that are postexilic (Haggai, Malachi, and Zechariah) that can also synergize with postexilic priests (Jeshua and Ezra).  Additionally, a few of these heroes can form a powerful banding chain that is best ended with Zechariah, who would situationally negate characters and enhancements (except star cards). Star cards are this offense's main go-to, but you can also switch strategies to non-star cards to get the job done!
The defense uses powerful Persian warriors that tend to band to one another and wreak havoc on your opponent's cards in territory by various abilities, mainly set aside abilities. Switch tactics at the right time by using the deck's brown evil females, whose abilities are situationally powerful and can also synergize well with their male counterparts!
THE OFFENSE:
Use Jeshua's draw ability when a good card is topdecked in combination with the many abilities that top deck good cards, such as Malachi, Foreigner Lost Soul, Covenant Breakers Lost Soul, and others.
Isaiah's ability makes star cards CBN, which is a powerful advantage over your opponent, since all of your green enhancements are star cards!
To use your green and gold enhancements during the same battle, band certain green and gold Heroes together.  There are plenty of Enhancements in this deck build that will help them win the battle. 
Make your opponent think twice about searching and drawing by playing Jonah and Golden Cherubim to territory, since there's a consequence they provide if your opponent uses those abilities!
Use Offering Your Son to snag any of the three OT artifacts from deck, or Lions from Reserve.  
Covenant with David tends to help the defense more in this deck build as you can use it to search for a site (Lion's Den, in this case), which will, in turn, allow you to take Lions from Reserve; or use the artifact side and snag either of your two Persian kings!
A roundabout way to obtain the evil enhancements from Reserve is to target them as good cards, since the evil enhancements are dual-alignment.  Persian Horsemen can also snag them when he's blocking.
Activate Golden Cherubim in Zerubbabel's Temple to free-up your artifact pile for the use of a second active artifact!
THE DEFENSE:
One of the strongest plays is to form a banding chain with your Persians and back them up with the several different negating enhancements that're in this deck build.  However, if this cannot be done, you can use powerful battle-winning enhancements with lone blockers.
Maximize Queen Vashti's draw by playing your two other female blockers in territory.  If you don't need the draw then use Vashti's negate ability at the right time.

Use your blockers that have set-aside abilities that target your opponent's territory, but do so at the right time to maximize the effectiveness of wiping out that territory.

All the Curses can be used as a strong battle-winner, or a just as strong artifact by negating your opponent's pesky neutral cards!  It can also be snagged with Offering Your Son.
YTG recommends the below cards as other viable options for this deck's theme. You can view and purchase them by clicking on each one, or search for them here!
Classic cards
Rotation cards
Classic and/or Rotation cards