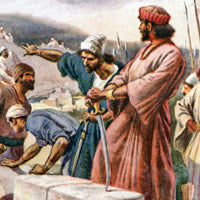 This Contender Deck utilizes heroes that can either be used for their unique special abilities, or as meek (no special ability), both of which make this offense formidable and offers benefits to using either side.  The special abilities include banding, evil character negation, banishing of evil cards, etc., and are backed up by plenty of protect and draw abilities.  The defense focuses on strong evil character and enhancement abilities, forced mutual draws, and lost soul-protection.  This deck is sure to give your opponent a run for his money! 

See bottom for recommended cards you can purchase separately to help boost this deck's theme, some of which are Classic cards to modify this deck to that format!

Dominants
Son of God (I/J)
New Jerusalem (I/J+)
Angel of the Lord (I/J)
Ride on Victoriously / Awesome Things (LoC)
Christian Martyr (I/J)

Lost Souls
Slaves (CoW)
Rejoice (J)
Gain (RoJ)
Destruction (CoW)
Open Hand (CoW)
Retribution (EC)
Escape (PC)

Artifacts/Covenants/Curses
Book of the Law (LoC)
Shrine to Artemis (EC)
Besieged (PoC)

Fortresses/Sites/Cities
Zerubbabel's Temple (LoC)
Areopagus (EC)
Dual-Alignment Cards
Prisoner at Gaza (FoM)

Heroes
Ezra, Favored by God (LoC)
Jeshua, the Restorer (LoC)
Achim, the Compiler (LoC)
Matthan, the Defender (LoC)
Abihud, the Progeny (LoC)
Eliud, the Revolutionary (LoC)
Shealtiel, the Heir (LoC)
Zadok, the Consummate (LoC)
Jacob, the Disgruntled (LoC)

Good Enhancements 
By My Spirit (LoC)
Builder's Sword (LoC)
Jordan Interrupted (PoC)
Zerubabbel's Plumb Line (LoC)
Feast of Booths (LoC)
Feast of Trumpets (LoC)
Root of Jesse (LoC)
Evil Characters
The Priest of Zeus (EC)
The Winged Leopard (PoC)
Epicurean Philosophers (EC)
Stoic Philosophers (EC)
Demetrius the Silversmith (EC)
Hellenistic Jews (EC)
Philetus (PC)
Hymenaeus (PC)
Diotrephes (RoJ)
Aliens (Blk/PG) (LoC)

Evil Enhancements
Seized by Rioters (EC)
Stricken (PoC)
Adjourn (EC)
Betrayal (PoC)
Scattered Sheep (PoC)
Seek and Destroy (EC)
Reserve 
Azor, the Recusant (LoC)
Eleazar, the Potentate (LoC)
Eliakim, the Expatriate (LoC)
Windows of Narrow Light (LoC)
Oath of Purity (LoC)
Impartial Judgment (LoC)
Goliath's Sword (LoC)
Alexander, the Great (PoC)
Go Away! (LoC)
Abraham's Deceit (LoC)
Deck strategy and tips:
OVERVIEW

The offense's abilities mainly focus on your meek heroes, as well as banishing evil cards from discard piles. Additionally, the heroes have strong banding and can also negate several different evil humans. The heroes are backed up by powerful negate and battle-winning Enhancements.

The defense has decent banding, several draw abilities that make your deck run faster. It also has a minor soul protection theme.

THE OFFENSE

One of the most powerful combos for this deck is to play Impartial Judgment pre-battle to discard numerous evil cards from your opponent's hand. To do this, maximize the number of meek heroes you have in play, and play Awesome Things after your meek hero enters battle. You can either play Impartial Judgment off of Awesome Things directly on that hero, or indirectly by playing Feast of Booths then Impartial Judgment from Reserve. Another tactic to maximize the damage done to your opponent's hand is to activate Oath of Purity pre-battle to bounce up to two evil humans in opponent's territory. 

Before you enter battle with your meek heroes, use Root of Jesse during your Prep Phase to protect them that turn. Kindness also helps with protection of the hero it's placed on pre-battle. It also will give you a draw 1. 


At the right time, use Windows of Narrow Light (WoNL) to negate characters and Enhancements. Try and use your CBP and CBN good and evil cards to still work through WoNL. 

Part of Jeshua's ability can be used to draw any good cards your other cards topdeck. 
Use Zerubbabel's Temple to activate Book of the Law or Windows of Narrow Light in so you can use your artifact pile for another artifact. 
THE DEFENSE
If possible, play Seized by Rioters on Demetrius the Silversmith as he makes it CBN. He can also search for Shrine to Artemis and activate it on your next turn. 
At the right time, use Alexander the Great to block and discard a multi-brigade character. 
As soon as possible, play The Priest of Zeus to punish your opponent when he uses a draw ability. 
Use Areopagus to activate Shrine to Artemis so you can use your artifact pile to activate another artifact on it. 
Go Away! can be used defensively, but it can also be used in territory to reset any number of your heroes to be played either on their special ability or meek side. It could also bounce any nuisance heroes in opponent's territory, such as Music Leader or Jonah. 
YTG recommends the below cards as other viable options for this deck's theme. You can view and purchase them by clicking on each one, or search for them here!
Classic cards
Rotation cards
The Lord Delivers! / Am I a Dog?
Classic and/or Rotation cards