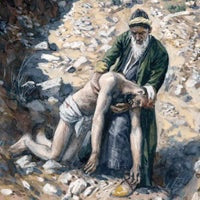 Just about every person knows the story of the good Samaritan, who took care of a Jewish man after that man was beaten and robbed by a band of thieves.  With this Challenger Deck, you'll relive that story, as well as other stories about Samaritans and thieves from the Bible!  Use strong Samaritan heroes, along with other N.T. gold brigade heroes, to disrupt your opponent's deck, while blocking your opponent's rescues with nasty thieves that take cards from your opponent! Your offense and defense also has an added benefit of having several dual-alignment cards in this deck!  With plenty of draw abilities, you'll have a great time using this fast deck, while your opponent is sure to be frustrated!  
With several GoC cards in this deck, you'll be able to easily convert it to a GoC-only deck, so you can also play in that category!  It's like getting two decks for the price of one!  See bottom of page for several recommended GoC cards to boost this deck's theme, and/or to substitute if you'd like to play the GoC Only category.

Dominants
Son of God (I/J)
New Jerusalem (I/J+)
Angel of the Lord (I/J)
Voice from Heaven (GoC)
Christian Martyr (I/J)

Lost Souls
Grumbled (K Deck)
Fool (RoA)
Behold (L Deck)
Shepherds (L Deck)
(3) Meek (no special ability) (I/J)

Artifacts/Covenants/Curses 
Samaritan Water Jar (GoC)
Thirty Pieces of Silver (GoC)
Oath of Purity (LoC)

Fortresses/Sites/Cities
Den of Thieves (GoC)
Golgotha (GoC)
Sychar (GoC)

Dual-Alignment Cards
The Repentant Thief / The Condemned Thief (GoC)
Zaccheus, the Repentant / Tax Collector (GoC)
Judas Iscariot / Judas, the Betrayer (GoC)
The Forgiven Woman / The Shamed Woman (GoC)
The Prodigal Son (GoC)
Restitution / Extortion (GoC)

Heroes
The Good Samaritan (GoC)
Citizens of Sychar (GoC)
The Thankful Leper (GoC)
Faithful Servant (GoC)
The Persistent Widow (GoC)
The Nobleman (RoJ)

Good Enhancements 
Amazing Faith (GoC)
Restoring the Afflicted (GoC)
Who is Without Sin (GoC)
Talitha Kum! (GoC)
Meeting the Messiah (GoC)
Trumpets and Torches (J)
Kindness (EC)

Evil Characters
The Ambushing Bandits (GoC)
Fence Jumpers (GoC)
Plunderers (GoC)
Temple Thieves (GoC)
The Highwayman (GoC)
The Mocking Thief (GoC)
Aliens (Crimson/Gold) (LoC)

Evil Enhancements 
Hurling Insults (GoC)
Pilfer (GoC)
Purloin (GoC)
Stolen Treasures (GoC)
Thievery of Judas (GoC)
Scattered (RoA)

Reserve 
Matthan, the Defender (LoC)
The Woman at the Well (GoC)
Faith of Samson (CoW)
Lost Coin Found (GoC)
Man with Withered Hand (GoC)
Barabbas (GoC)
Peter's Curse (GoC)
Stolen Seed (GoC)
Ambush! (GoC)
Left for Dead (GoC)

Deck strategy and tips:
The offense has several heroes to choose from, some of which synergize the best, such as the Samaritan heroes, while others are optimal lone rescuers.  The offense has a disrupt effect on your opponent's deck by sending cards to his Reserve.  This can make it harder for your opponent to gain the characters and resources he needs for his turns.  The offense also has some decent add to battle and tutoring options.
The defense is mainly comprised of thieves that take, or "steal", your opponent's cards, giving you a distinct advantage while disrupting your opponent's strategy.  Most of the evil enhancements and abilities work best when played on your thieves, but they can also work with the other crimson evil characters in this deck.  

Since there are several dual-alignment characters in the deck, you can choose to either use them as rescuers or blockers.  

Need a hero or a blocker but already played one of your dual-alignment characters as the opposing alignment?  No problem!  Use Oath of Purity to bounce up to two of them to reset them to whatever alignment you'd like to play them as.
The "Galileans" Lost Soul and Golgotha are excellent options to exchange one of your N.T. crimson evil cards in hand with a dual-alignment character in deck, in the event you don't need a blocker but need a hero.
After you reserve a good amount of cards from your opponent's deck, use Voice from Heaven to banish the best of those cards!

While Matthan, the Defender is considered an O.T. hero, he is also considered a Gospel hero, since his scripture reference is from the gospels.  Therefore, cards like Meeting the Messiah, Restitution, and Restoring the Afflicted can be used to target/play on him.  And, if you need to generate a lost soul, he's the the perfect character to use!
Make your opponent think twice about drawing cards by playing The Ambushing Bandits and Judas Iscariot, which are territory class characters and disrupt your opponent's draw abilities!
The more thieves you have in play, the more you will benefit, such as larger draws; and a good amount of your enhancements are maximized when played on a thief.
YTG recommends the below cards as other viable options for this deck's theme. You can view and purchase them by clicking on each one, or search for them here!