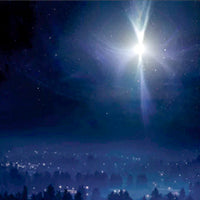 The birth of Jesus marked a significant moment in history as the Savior of the world was born!  With this Challenger Deck you'll relive this moment in history by using powerful Nativity heroes associated with His birth, while defending against your opponent's rescues with strong, evil Herods and those associated with them!  With powerful good and evil enhancements to back up your heroes and evil characters, and strong blockers, your opponent is sure to struggle to win!
With several GoC cards in this deck, you'll be able to easily convert it to a GoC-only deck, so you can also play in that category!  It's like getting two decks for the price of one!  See bottom of page for several recommended GoC cards to boost this deck's theme, and/or to substitute if you'd like to play the GoC Only category.

Dominants
Son of God (I/J)
New Jerusalem (I/J+)
Angel of the Lord (I)
Star of Bethlehem (GoC)
Christian Martyr (I/J)

Lost Souls
Grumbled (K Deck)
Behold (L Deck)
6/* (FoM)
Fool (RoA)
(3) Meek (no special ability) (I/J)

Artifacts/Covenants/Curses 
Gifts of the Magi (GoC)
The Manger (GoC)
Covenant with David (PoC)

Fortresses/Sites/Cities
Bethlehem Stable (GoC)
Golgotha (GoC)

Dual-Alignment Cards
Reprimand / Repercussion (GoC)

Heroes
Anna, the Widow (GoC)
Elizabeth (GoC)
John the Forerunner (GoC)
Joseph, the Betrothed (GoC)
Simeon, the Devout (GoC)
Shepherds of Bethlehem (GoC)
The Magi (GoC)
Zechariah, the Silent (GoC)
The Messianic Messenger (GoC)
Magnifying Multitude (GoC)

Good Enhancements 
Flight into Egypt (GoC)
Magnificat (GoC)
Lost Child Found (GoC)
The Annunciation (GoC)
No Need for Spices (GoC)
An Angel Appears (GoC)

Evil Characters
Herod Antipas (GoC)
Herod Philip II (GoC)
Herod Agrippa I (GoC)
Herod Archelaus (GoC)
Herodias (GoC)
Herodians (GoC)
Abusive Soldiers (GoC)
Herod's Executioner (GoC)
Herod's Guard (GoC)
Aliens (Crimson/Gold) (LoC)

Evil Enhancements 
Executioner's Sword (GoC)
Duplicity (GoC)
Beheaded (GoC)
Contagious Fear (GoC)
Futile Inquisition (GoC)
Herod's Treachery (GoC)

Reserve 
Mary, Holy Virgin (GoC)
Hospitality in Bethany (GoC)
The Child is Born (GoC)
Nunc Dimittis (GoC)
Merchants of the Earth (RoJ)
Herod Agrippa II (GoC LR)
Dance of Death (GoC)
Foreign Spears (LoC)
Ridicule (GoC)
Romans Destroy Jerusalem (GoC LR)

Deck strategy and tips:
The offense likes to have your opponent have hand advantage (more cards in his hand than yours), which will give you extra benefits to your offense.  The offense also has strong band abilities and enhancements that are intended to push past your opponent, as well as speedy search abilities.

The defense has strong band abilities and searching and rescursion.  It also has a few "chump" block enhancements that stall your opponent's rescues.
To help set your opponent up with hand advantage, use cards like Gifts of the Magi and Lost Child Found to bounce cards to his hand.
Use power search enhancements, such as The Annunciation and An Angel Appears, to get out the right cards at the right time.
Star of Bethlehem is a powerful dominant to use mid to late game, as it allows you to activate several of your star abilities on your cards.  So, save it for the right time to maximize its potency.
Use Joseph to band to Mary who will then obtain a good star card from Reserve, so you can be set up for your attack.
Covenant with David is a very versatile Covenant, as you can either use the enhancement side to play Bethlehem Stable or Golgotha from deck, or you can use the artifact side to obtain one of your Herods from deck, thereby giving you offensive or defensive options.
Try and have as many herods in play as possible as several of your cards give you extra benefits by having herods in play.
Repercussion and/or Herod's Treachery are excellent evil enhancement options to play on Herod Agrippa II as his CBN capture ability is powerful (so long as your opponent doesn't have a way to negate the withdraw!)

If your opponent is also using N.T. heroes, use Romans Destroy Jerusalem on one of your herods as an early or late game option as RDJ will also discard all of your N.T. heroes! 

Use a low numbered blocker so you can have initiative to play Futile Inquisition on.
Merchants of the Earth is a great way to recur a couple of your more powerful evil enhancements, such as Contagious Fear and Futile Inquistion.  So, block with him at the right time.
YTG recommends the below cards as other viable options for this deck's theme. You can view and purchase them by clicking on each one, or search for them here!