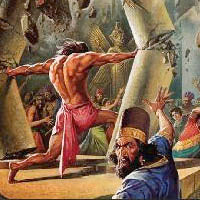 Don't judge me...but I'll judge you!  With this Challenger Deck, you will be in control of powerful, lone rescuing judges that are backed up by powerful enhancements, along with meek hero-related strategies that give you extra benefits. The Canaanite defense has strong band abilities and big numbered blockers that make it difficult for your opponent to break through. With plenty of draw abilities, this deck is fast, strong and a lot of fun to play!

Dominants
Son of God (I/J)
New Jerusalem (I/J+)
Angel of the Lord (I/J)
Voice from Heaven (GoC)
Christian Martyr (I/J)

Lost Souls
Fool (RoA)
6*/ (FoM)
Grumbled (K Deck)
Behold (L Deck)
(3) Meek (no special ability) (I/J)
Artifacts/Covenants/Curses 
Gideon's Ephod (FoM)
Oath of Purity (LoC)
Besieged (PoC)

Fortresses/Sites/Cities
Judge's Seat (I/J+)
Jericho (CoW)
Sodom and Gomorrah (FoM)
Hebron (FoM)

Dual-Alignment Cards
Prisoner at Gaza (FoM)
Avenged! (FoM)

Heroes
Samson (J)
Gideon (J)
Deborah (PoC)
Othniel, son of Kenaz (FoM)
Shamgar (FoM)
Jephthah's Daughter (FoM)
Barak (CoW)
Samuel (CoW)
Eleazar, the Potentate (LoC)
Matthan, the Defender (LoC)

Good Enhancements 
Amazing Faith (GoC)
Builder's Sword (LoC)
By My Spirit (LoC)
Trumpets and Torches (J)
Tested by Fire (PoC)
Feast of Booths (LoC)

Evil Characters
Afflicting Spirit (GoC)
Og, King of Bashan (FoM)
Ahiman, son of Anak (FoM)
Sheshai, son of Anak (FoM)
Talmai, son of Anak (FoM)
Lot's Daughters (FoM)
Canaan, the Cursed (FoM)

Evil Enhancements 
Baal Worship (FoM)
Stricken (PoC)
Foreign Spears (LoC)
Ishbibenob's Spear (I)
Goliath's Armor (LoC)
Idol Worship (FoM)

Reserve 
Jephthah (J)
Daughter's Grief (FoM)
Shamgar's Oxgoad (J)
Appointing Judges (LoC)
Idols of Canaan (FoM)
Canaanite Wives (FoM)
Sisera's Army (CoW)
Foreign Wives (RoA)
Ishbibenob's Spear (I)
Scattered Sheep (PoC)

Deck strategy and tips:
The offense mostly utilizes lone heroes for rescues that utilize powerful enhancements to help them win the battle, but there are a few banding options to incorporate in your attack strategy.  Additionally, your meek heroes are supported by certain cards that give you special benefits, such as CBN, as well as other cards that interact the best with meek heroes.
The defense has powerful, large numbered blockers that tend to band to one another, forming a wall to help stop your opponent's rescues.  They are backed-up by several negate enhancements that help to deflect your opponent's good, battle-winning enhancements, in order to keep your blockers in the battle.
Use Oath of Purity's enhancement side to band in several of your (or potentially your opponent's) heroes for a powerful band that will be hard for your opponent to stop; or, use the artifact side to bounce up to two humans in a territory.  This will come in handy when you need to meet Shamgar's unity condition in the event you have Samuel, Matthan and/or Eleazar in play, since they don't have a Judge's reference.  You can also use Oath to bounce Eleazar to either use his special ability side or meek side.
Voice from Heaven is a powerful Dominant that, when timed right, can give you a  powerful advantage.  For example, use VfH in conjuction with Eleazar's toss ability.  Also, if your opponent has a protected character whose protection you cannot get around, use VfH during battle to by-pass that character's protection by making your enhancements regardless of protect abilities.

Eleazar, while not a judge, tends to be a great way to band to your warrior judges and/or your meek judges (in the event you need a banding option).  Likewise, Matthan isn't a judge; however, he is a great option for soul-gen or to use as a meek hero.
A good combo is to use a meek hero to rescue. When you have initiative, play Feast of Booths to get a potential draw, and also play an OT good enhancement from Reserve on your meek rescuing hero.  This will allow you to play a potential battle-winning enhancement after getting a draw. 
Jephthah's territory destruction is powerful. Time it right to take out 2 of your opponent's toughest Evil Characters!  Knock out a 3rd evil character prior to having Jephthah entering battle by discarding Judge's Seat.
Sometimes order of operations can be confusing. Jephthah's Daughter's ability is an example of this, so here is how it plays out:  attack with her, then banish her to add Jephthah to battle from Reserve. His ability activates first before her choose the blocker ability does. So once you choose to use or not use his ability, choose the human from opponent's territory to block Jephthah (if there's a valid target).

Use Og to hopefully snag a black OT card from the top of deck (perhaps it's one of your Canaanites), then band to an evil Canaanite warrior, such as King of Tyrus or Sisera's Army to make a strong block against your opponent.

If timed right, Canaanite Wives' ability can be a strong battle-winner.
Gideon's Ephod can be a tricky artifact to have active as its ability also affects your heroes, so time it right so that it can benefit your rescues (such as giving yourself initiative by lowering the hero's toughness), but also hurt your opponent's heroes.
Activate Besieged as an artifact on Jericho so you can activate a second artifact on your artifact pile!
YTG recommends the below cards as other viable options for this deck's theme. You can view and purchase them by clicking on each one, or search for them here!