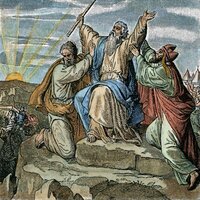 Designed by Jayden Alstad, a multi-National tournament winner of several categories, this deck seeks to focus on the disruption and strong attacking power of the Wilderness offense, led by Moses (CoW), while benefitting from the synergy with a Curse-centric Wilderness defense. Side effects may include causing your opponent to wander for 40 years in the desert, or at least wonder for a while about how to make a rescue attempt.
Check out a video by Jayden himself designing this deck!
https://youtu.be/J99Og_TMvAc?si=cNPFmgypPFjcjgP5
See bottom for recommended cards you can purchase separately to help boost this deck's theme!
Dominants
Son of God (I/J)
New Jerusalem (I/J+)
Angel of the Lord (I/J)
Christian Martyr (I/J)
Pillar of Fire (L)
Murderous Command (K)
 
Lost Souls
Stumble (PoC)
Dread (K)
Unfaithful (LoC)
Aimless (IR)
Color Guard (Roots)
Hormah (Roots)
Salty (GoC)
 
Artifacts/Covenants/Curses
Twenty Shekels (IR)
Moses' Staff (PoC)
Offering of Wrongdoing (IR)
Deserving Scorn (IR)
 
Fortresses/Sites/Cities
Wilderness of Sinai (L)
Noah's Ark (Ark of Salvation) (PoC)
Storehouse (IR)

Dual-Alignment Cards
Blood Avenger (IR)
Pharaoh's Daughter (FoM)
Heroes
Shiprah (FoM)
Indentured Servant (PoC)
Jochebed, Moses' Mother (Roots)
Medad (IR)
Oholiab, the Engraver (IR)
The Chosen Warriors (IR)
Zipporah (IR)
Bezalel, the Builder (IR)
Hur (PoC)
Moses (CoW)
 
Good Enhancements
Faith of Moses (CoW)
Increasing Numbers (IR)
Inhabitants Driven Out (IR)
Steady till Sunset (IR)
Water from the Lord (IR)
Moses and the Elders (IR)
 
Evil Characters
Dathan, the Follower (IR)
Korah, the Rebellious (IR)
Rebellious Israelites (IR)
Wandering Israelites (IR)
Wicked Community (IR)
The Amalekites' Slave (Roots)
Persian Horsemen/Persian Horses (PoC)

Evil Enhancements
Better to be Slaves (IR)
Dissent Against Moses (IR)
Grumbling at God (IR)
Korah's Rebellion (IR)
Scattered (RoA)
Reserve
Madness (IR)
All the Curses (IR)
Covenant with Moses (L)
Wasting Disease (PoC)
Siege (Roots)
Plague of Frogs (GoC)
Freedom! (Roots)
Israelites Delivered (IR)
Plague of Darkness (FoM)
Death of Firstborn (PoC)
Deck strategy and tips:
OVERVIEW:
Capitalize on the strong disruptive power of Moses (CoW) to slow your opponent down and gain an advantage through the various ways to make CBP plays while Moses is attacking.

Peak performance of the defense will typically involve cycling Deserving Scorn and Madness in and out of Reserve to take advantage of blocks that are difficult to interact with at the expense of little to no resources. And if that doesn't cut it, then a variety of good old fashioned Evil Enhancements are included as well.

THE OFFENSE:

Get Moses out quickly with cards like Offering of Wrongdoing, Wilderness of Sinai, Pharaoh's Daughter, Medad, Oholiab, Shiphrah, or even Dread LS and Murderous Command to get to Pharaoh's Daughter.

Use Pharaoh's Daughter as a Hero to give most of your good battlewinners and Heros banded into battle the ability to work through Moses' negate.

Use Noah's Ark to protect Moses and Pharaoh's Daughter while in territory.

Begin battles with The Chosen Warriors to fetch your battlewinners from Reserve before using their battle extension ability to bring in the Hero(es) you want.

Use Twenty Shekels to bounce Moses as needed in order to utilize Lost Soul abilities or other territory class effects like Indentured Servant.
THE DEFENSE:

Use Blood Avenger to block a lone Hero with poor initiative. If Blood Avenger loses by the numbers and is discarded during battle resolution, the discard ability is triggered but cannot be easily interacted with because Enhancements can't be played during battle resolution.




Use the Evil Enhancement side of a curse to block a battle and then Reserve it with Wicked Community before the battle is over so that you can use it again, even if there's no Good Enhancement to negate.

Use Siege to bring in all your opponent's Heroes before getting initiative to play Scattered or All the Curses.

Use Murderous Command to pull out an early Pharaoh's Daughter for Moses. Don't forget you can still discard a Hero in a territory even if you're not playing it during battle.

Use Twenty Shekels to bounce Moses as needed in order to utilize Lost Soul abilities or other territory class effects like Indentured Servant.
YTG recommends the below cards as other viable options for this deck's theme for Type 1 constructed play.  You can view and purchase them by searching for them here!
Forty Years
Israel's Rebellion
Moses, the Servant
Transgressors
Egypt (PoC)
Covenant with David (PoC)
Reap the Whirlwind
The Deceiver
Job's Wife (RoJ)
Profane Daughters
Go Into Captivity (IR)
Plague of Flies (LoC)
Covenant with Moses (PoC)
Book of the Covenant
Sheol
Zelophahad, the Lone
Kinsmen's Agreement
Humble LS
Wicked LS
Angel of God (Promo)
You Will Remain
Miriam (PoC)
The Second Coming
Three Woes
Covet LS