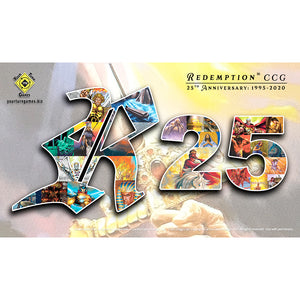 Redemption is the second-longest running CCG in history, with 2020 being Redemption's 25th year of existence...and the game has never been better!  To commemorate this amazing milestone, YTG proudly sells this beautiful, one-of-a-kind and limited 25th anniversary playmat!
This custom mat is 24" long x 14" in depth and has 25 of the most iconic card images collaged within the Redemption "R" and "25," which boldly proclaims the number of years Redemption players have had countless hours of fun and fellowship, friends that were made, lives that have been changed, and the Gospel proclaimed through this wonderful game.  This beautiful design is overlaid on the image that's on the back of every Redemption card—the flaming sword.  
Only a limited number of these special edition playmats have been made, so be sure to own your piece of Redemption history while you can!