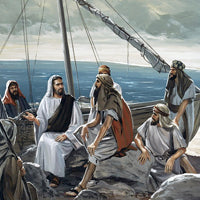 Jesus gave His disciples authority over unclean spirits.  However, this doesn't mean your opponent's heroes have authority over them!  With this Challenger Deck, you'll use the legendary disciples of Jesus to rescue souls from your opponent, while blocking with nasty Gospel demons.  Choose your rescuing tactics between rescuing with either the heroes' special ability side, or their meek side, while using placed card strategies with your defense to stop and frustrate your opponent!

With several GoC cards in this deck, you'll be able to easily convert it to a GoC-only deck, so you can also play in that category!  It's like getting two decks for the price of one!  See bottom of page for several recommended GoC cards to boost this deck's theme, and/or to substitute if you'd like to play the GoC Only category.

Dominants
Son of God (I/J)
New Jerusalem (I/J+)
Angel of the Lord (I)
Harvest Time (GoC)
Christian Martyr (I/J)

Lost Souls
Defiled (GoC)
Revealer (GoC)
Behold (L Deck)
Shepherds (L Deck)
(3) Meek (no special ability) (I/J)
Artifacts/Covenants/Curses 
Four Drachma Coin (GoC)
Send the Helper (GoC)
Cursed for Us (GoC)

Fortresses/Sites/Cities
Fishing Boat (GoC)
The Gates of Hell (GoC LR)
Patmos (RoJ)
Dual-Alignment Cards
Judas Iscariot / Judas, the Betrayer (GoC)

Heroes
Simon Peter (GoC)
Andrew, First Called (GoC)
Bartholomew (Nathaniel) (GoC)
James, the Younger (GoC)
Matthew, the Publican (GoC)
Matthias (GoC)
Philip of Bethsaida (GoC)
Thomas the Twin (GoC)
John, the Fisherman (GoC)
Angel from the Sun (RoJ)
Good Enhancements 
My Lord and My God (GoC LR)
Walking on Water (GoC)
Washed by Christ (GoC)
I Am He (GoC)
The Lord's Prayer (GoC)
Untouchable (GoC)
Baptism of Jesus (GoC)
Spirit as a Dove (GoC)

Evil Characters
Afflicting Spirit (GoC)
Destroying Spirit (GoC)
Evil Spawn (GoC)
Restless Spirit (GoC)
Strong Demon (GoC)
The Sordid Spirit (GoC)
Snaring Spirit (GoC)
Possessing Spirit (GoC)

Evil Enhancements 
Deafening Spirit (GoC)
Deteriorating Condition (GoC)
Driven by Spirits (GoC)
Suicidal Swine Stampede (GoC)
Destructive Sin (GoC)
Reserve 
Simon, the Zealous (GoC)
Thaddaeus / Judas (Thaddaeus) (GoC)
James (I)
Expelled from Heaven (GoC)
Love One Another (GoC)
The Ascension (GoC)
Life in the Son (GoC)
Unclean Spirit (J)
Evil Armor (GoC)
Choked Seed (GoC)
Deck strategy and tips:
The heroes' special abilities side tends to be conditional upon either revealing a good dominant from your hand, and/or converting the hero to meek.  So, choose the right strategy at the right time in your rescues to maximize your chances of winning the battle.
The defense tends to use a placed card strategy in that if you have certain placed orange brigade cards in play, you gain extra benefits.  So, maximize this strategy by placing your orange cards on the right cards at the right time.
Try and have Simon Peter in play early on so you can activate Four Drachma Coin to get a draw 4.
Since the offense relies heavily on revealing a good dominant from hand, have Thomas the Twin in play early on so you'll be able to snag one of your 4 good dominants to assist your next rescue.
If you don't need to soul gen, hold Harvest Time in your hand each rescue so you can reveal it to meet the disciples' ability condition of revealing a good dominant from hand.  You can do this with your other good dominants,
Use Angel from the Sun to exchange for any one of your disciples in deck or Reserve (except John) as they are all martyrs.  Patmos is also a great way to obtain one of your disciples from deck or discard pile.
If you need to reset one of your meek heroes, use Send the Helper to bounce it.
Use Fishing Boat to extend the battle.
Your demons tend to be their strongest when banded together, so try and band as often as you can (under the right circumstances, of course).
Although Judas, the Betrayer is your only evil human, you can potentially use Unclean Spirit to band to one of your opponent's evil humans in territory, which may be your best blocking option.
Suicidal Swine Stampede, when played as an enhancement and on a low numbered blocker, is a great way to stall your opponent and shuffle away your lost souls.
The Gates of Hell is a great way to either keep the battle going, or add one of your demons that can help hinder your opponent's rescue.
YTG recommends the below cards as other viable options for this deck's theme. You can view and purchase them by clicking on each one, or search for them here!