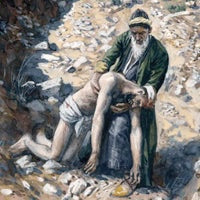 Designed by Jayden Alstad, a multi-National tournament winner of several categories, this Contender Deck dives into the redefined N.T. gold offense, and "reserve it or take it" is the name of the game with this attrition warfare-style NT Gold/Thieves Contender Deck. The offense focuses on reserving cards from your opponent's deck, hand, and in play and then getting incremental value with Sychar. The defense is not only strong due to the highly resource-efficient plays, but can be a lot of fun as you figure out how to use your opponent's cards against them with cards like Den of Thieves and Barabbas.
See top for recommended GoC cards to boost this deck's theme, and/or to substitute if you'd like to play the GoC Only category. You'll also find recommended non-GoC Rotation cards as well, all offered at a discount! Finally, see the bottom of this page for the full list of recommended cards, including Classic cards!
Dominants
Son of God (I)
New Jerusalem (I/J+)
Angel of the Lord (I)
Harvest Time (GoC)
Christian Martyr (I)
Vain Philosophy (PoC LR)
Lost Souls 
Harvest (GoC)
Galileans (GoC)
Defiled (GoC)
Retribution (EC)
Lawless (CoW)
Revealer (GoC)
Shut Door (GoC LR)
Artifacts/Covenants/Curses 
Samaritan Water Jar (GoC)

Unholy Writ (GoC LR)
Fortresses/Sites/Cities 
Bethlehem (LoC)

Sychar (GoC)
Den of Thieves (GoC)
Dual-Alignment Cards 
The Forgiven Woman / The Shamed Woman (GoC)

The Repentant Thief / The Condemned Thief (GoC)
Zaccheus, the Repentant / Zaccheus, Tax Collector (GoC)
Restitution / Extortion (GoC)
Heroes
The Nobleman (RoJ)
The Good Samaritan (GoC)
The Woman at the Well (GoC)
Citizens of Sychar (GoC)
The Thankful Leper (GoC)
Jairus (GoC)
Watchful Servant (GoC)
The Persistent Widow (GoC)
Good Enhancements 
Teaching in Parables (GoC)
Restoring the Afflicted (GoC)
Talitha Kum! (GoC)
Good Seed (GoC)
Meeting the Messiah (GoC)
Amazing Faith (GoC)
Reverence and Awe (CoW)
Evil Characters
The Thief (GoC)
Barabbas (GoC)
Plunderers (GoC)
Temple Thieves (GoC)
The Highwayman (GoC)
The Ambushing Bandits (GoC)
The Mocking Thief (GoC)
Evil Enhancements
Ambush! (GoC)
Pilfer (GoC)
Stolen Treasures (GoC)
Purloin (GoC)
Stolen Seed (GoC)
Hurling Insults (GoC)
Reserve
Lost Sheep / Good Shepherd (GoC)
Man with Withered Hand (GoC)
Jairus' Daughter (GoC)
Ten Virgins (GoC)
Who is Without Sin? (GoC)
Lost Coin Found (GoC)
Submission to Christ (GoC)
Left for Dead (GoC)
Fence Jumpers (GoC)
Thirty Pieces of Silver (GoC)
Deck strategy and tips:
OVERVIEW
The offensive power is not necessarily found in strong battlewinners, but in taking away your opponent's options. Reserving their best Evil Enhancements from their hand and deck means that your battlewinners will eventually be difficult to stop.
The defense generates value through high draw power and 2-for-1 take abilities. The more thieves you have, the more damage you can do, so late-game blocks have the potential to be highly devastating with all the banding available.

THE OFFENSE
Use Teaching in Parables to see what your opponent has in hand before choosing the blocker with Zaccheus or negating and tossing Enhancements with Jairus and Jairus' Daughter.
The dual-alignment Characters and Enhancements give the deck great flexibility. Reserve your DA Characters with Bethlehem for the negate ability so you can get them back with Ambush or Den of Thieves.
If The Nobleman comes out early, he can help get your offense out incredibly quickly. In a pinch, you can also use him to search for one of your dual-alignment Characters to use on defense.
You can use some of your thievery and Teaching in Parables to permanently or temporarily deal with an opponent's deck protection, but if you can't deal with it then be sure to make the most of it by using Ten Virgins to restrict them from playing Enhancements without giving them the option of reserving cards instead.
Use Lost Sheep to rescue your fifth Lost Soul by taking it from Reserve with The Forgiven Woman, Good Seed, or Meeting the Messiah.
If a game goes long, The Persistent Widow can outlast just about anything by topdecking herself and then the star ability allowing you to recur any of your Good Enhancements.


THE DEFENSE

Your best early blocks are going to be The Highwayman to draw cards or play Den of Thieves, Plunderers to prevent and take your opponent's Good Enhancements, and The Condemned Thief to assess what your opponent has and get initiative. Use The Thief to get to any of them.

Try to use anything you can take from your opponent before using your own Enhancements in case they get shuffled away or taken back. If your opponent is playing crimson that will be easy but otherwise Den of Thieves will be important to find early with The Highwayman or Temple Thieves.

Thieves are probably the best defense at finding their own battlewinners. If you've got nothing to play, use The Mocking Thief to take from opponent's deck, The Condemned Thief to take from their hand, Barabbas to take from their Reserve, or Fence Jumpers to take from their discard pile. Fence Jumpers is especially good if they have something like Unsuccessful that is hard to stop and you can play with Den of Thieves. Love of Money didn't quite make the cut, but it could be a fun addition to help use the Enhancements you take from your opponent.

Utilize Vain Philosophy strategically with Extortion. If you're opponent's hand is low on cards, play Vain Philosophy to underdeck something not as good to force them to give you the good stuff.

Unholy Writ can enable you to block purely for value with your Evil Characters and then capture their Heroes. Just be careful as they'll usually be able to play around it, unless of course you activate it mid-battle with Stolen Treasures.

It's not ideal since it means you're not making a rescue attempt, but don't forget that you can taunt with The Mocking Thief. You can get an Enhancement from their deck, potentially deal with a pesky Artifact, and restrict good Dominants until your next turn.

YTG recommends the below cards as other viable options for this deck's theme. You can search for them here!
To convert this deck to a GoC Only constructed deck, remove all cards that do not have GoC or GoC LR after each card title from the deck and Reserve.  You can then add any number of GoC or GoC LR cards from the Reserve to the main deck, in order to make the main deck a minimum of 50 cards.  You'll also need GoC or GoC LR lost souls to replace any non-GoC cards (purchase separately).  Another option is to purchase GoC cards separately to replace the non-GoC cards in the deck / Reserve (see below list of recommended GoC cards which can be purchased at the top of the page at a discount).
GoC cards
Crowd's Choice
The Resurrection
Golgotha
Jerusalem
Peter's Curse
Judas Iscariot
Faithful Servant
Angel Party
Day of Judgment
Foolish Builder
Strike the Shepherd
Thievery of Judas
Lacking Prophecy
Flying Scroll
Fire Foxes
Gabriel, Mouth of God
Bartimaeus (Promo)
The Emmaus Road
Faith of Gideon
Silly Women
Simon the Magician (TEC)
The Egyptian Rebel
Deluders
Love of Money
 The Wages of Sin
 Betrayal
 Nicolaitan's Teaching
 Deceitful Sin
 Disagreement Over mark
 Dissension in Antioch
 Hypocrisy (TEC)
Classic cards
Simeon (Wa)
The Generous Widow
Ambush the City
Meeting the Messiah (TxP)
Judas Iscariot
Sapphira
Belshazzar's Banquet
Dream