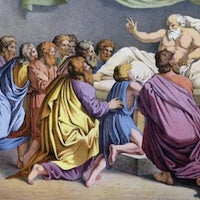 Designed by Derek Tirado, a National tournament top ranking player, and the founder & former owner of Your Turn Games, this Contender Deck uses the Sons of Jacob to wreak havoc on your opponent's evil cards in hand and territory! It also uses Genesis Egyptians to capture your opponent's heroes and characters while also discarding cards from their deck! Don't miss out on this strong deck that synergizes very well and is sure to help you push through to a quick victory!

See bottom for recommended cards you can purchase separately to help boost this deck's theme!

Dominants
Son of God (L)
New Jerusalem (I/J+)
Angel of the Lord (I/J)
Christian Martyr (I/J)
Out of Their Hands (IR)
Murderous Command (K)

Lost Souls
One for One (IR)
Dread (K)
Foreigner (PoC)
Fool (RoA)
Lost Boy (PoC)
6*/ (FoM)
Displeased (K)

Artifacts/Covenants/Curses
Joseph's Silver Cup (PoC)
Stone Pillar at Bethel (LR) (PoC)
Covenant with Noah (PoC)
Pharaoh's Curse (K)

Fortresses/Sites/Cities
Joseph's House (IR)
Storehouse (IR)

Dual-Alignment Cards
Seven Cows (IR)

Heroes
Joseph (CoW)
Asher, the Rich (IR)
Zebulun, the Steadfast (IR)
Benjamin, the Young (IR)
Naphtali, the Vocal (IR)
Gad, the Retaliator (IR)
Issachar, Burden Bearer (IR)
Simeon, the Vengeful (IR)
Levi, the Fierce (IR)
Dan, Justice of Peace (IR)
Midianite's Slave (FoM)

Good Enhancements
Forgiveness of Joseph (IR)
Joseph Before Pharaoh (LR) (PoC)
Abraham's Descendant (LoC)
Reserved for Famine (IR)
Naming the Nation (IR)
Faith of Noah (CoW)

Evil Characters
The Dreaming Pharaoh (IR)
Captain Potiphar (IR)
Egyptian Warden (IR)
Pharaoh's Baker (IR)
Pharaoh's Cupbearer (IR)
Potiphera, Priest of On (IR)
Egyptian Wise Men (IR)
Grain Tenders (IR)

Evil Enhancements
Famine in Egypt (IR)
Joseph in Prison (Roots)
Pharaoh's Dream (IR)
Better to be Slaves (IR)
Cupbearer's Complaints (IR)

Reserve
Judah, the Leader / Judah, the Substitute (LoC)
Reuben, the Preeminent (IR)
Covenant with Adam (PoC)
Brought to Egypt (IR)
The Murdering Pharaoh (K)
Send for Egyptians (IR)
Go Into Captivity (IR)
Patriarch Imprisoned (IR)
Slave to Egypt (IR)
Scattered (RoA)


Deck strategy and tips:
OVERVIEW:

The offense's strategy forces your opponent to underdeck evil cards from hand or territory. If your opponent doesn't do it, then you gain a strong benefit. They're also backed up by strong enhancement and support cards.

The defense centers on capture abilities but also has a minor deck discard theme. It also has a few discard pile recursion options and add to battle abilities.

THE OFFENSE:

Use Stone Pillar at Bethel to easily snag your OT Son of God or Angel of the Lord! If you don't need these, there are several OT good cards to select.

Get Joseph in p

lay early, then play Storehouse to make its ability CBN and also protect it. Additionally, Joseph makes your other SoJs CBN, which is very

powerful!

THE DEFENSE:
Covenant with Noah can take either a good or evil Genesis human from deck. So use it to snag a hero for that turn's rescue, or get one of your Genesis Egyptians to set up your next block!
Use Abraham's Descendant and Brought to Egypt to band in several SoJs which will force your opponent to choose to underdeck his evil cards from hand and/or territory!

If your Egyptian is removed from battle by an opponent, or if you just need bigger numbers in battle, use Murderous Command and/or Cupbearer's Complaints to keep the battle going!
YTG recommends the below cards as other viable options for this deck's theme for Type 1 constructed play.  You can view and purchase them by searching for them here!
Valley of Dry Bones
Joseph, the Blessed
Manasseh, the Calming
Ephraim, the Bountiful
Abram's Army
Potential in the Land
Twelve Gates
Forbidden Fruit
Twenty Shekels
Pharaoh's Gifts
Egyptian Magicians
The gods of Egypt
Pharaoh's Throne Room
Famished
Grain in a Famine