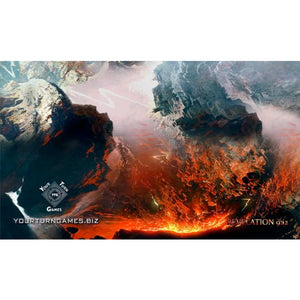 One of the most awesome images used for Redemption card art was one of John Martin's apocalyptic paintings, "The Great Day of His Wrath."  The art was used for the Three Woes card, a powerful dominant that's a staple in competitive decks.  
Now you can boldly display this iconic image on your very own playmat!  
This custom mat is 24" long x 14" in depth and has the Three Woes scripture reference on the bottom right corner, and YTG's logo and website on the bottom left corner.
Only a limited number of these special edition playmats have been made, so be sure to get yours while they last!